€800,000 EUR
Starting At Per Week
ELEMENTS
from €800,000 EUR Per Week
---
---
---
Staterooms
Cabin Name
Guest Stateroom
---
Cabin Name
Guest Stateroom
---
Cabin Name
Guest Stateroom
---
Cabin Name
Guest Stateroom
---
Cabin Name
Guest Stateroom
---
Cabin Name
Guest Stateroom
---
Cabin Name
Guest Stateroom
---
Cabin Name
Guest Stateroom
---
Cabin Name
Guest Stateroom
---
Amenities
EXTERIOR FEATURES
At-anchor Stabilizers, Underway Stabilizers
FITNESS AND WELLNESS
Hot Tub / Jacuzzi, Swimming Pool, Sauna / Steam Room
*For a complete list of amenities and features, please, contact the listing agent.
Toys And Tenders
TOYS
Flyboard, Kayaks, Kneeboard, Paddle-Boards, Seabobs, Snorkelling Equipment, Wakeboard, Water-Skis
TENDERS
1 x Custom Line 8.4m Limo Tender 2 x SOLAS approved Diesel Jet Rescue Tenders
Rates
PRICE (low)
€800,000 EUR/Per Week
PRICE (high)
€900,000 EUR/Per Week
LOCATION
Amalfi Coast, Corsica, Cyprus, Eastern Italy, French Riviera , Greece, Greek Islands, Italian Riviera, Malta , Rome & Western Italy, Sardinia, Sicily & The Aeolian Islands, Spain and The Balearics, Turkey
Get more information on this listing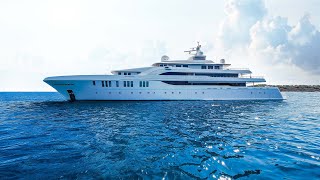 Full Specifications
---
Additional specifications are available for this listing. Click below to get detailed information.
More information or schedule a showing
Email Charter Agent
Charter Admin
Ocean Independence - FL
Full Specifications
receive full specifications on this listing
from the certified yacht broker.